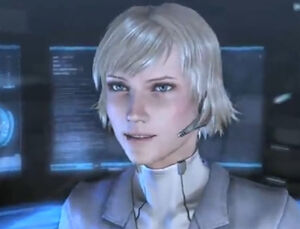 Elena Ivanova is one of the characters that appear in the game, Vanquish. She acts as radio support for the protagonist, Sam Gideon.
Background
Edit
Lauded as a prodigy, she received special education as part of a Department of Defense project, and was later reassigned to DARPA at the request of Professor Francois Candide.
Current Role
Edit
Her current role is to provide logistical support to one of DARPA's own, Sam Gideon. She is also known for her superior hacking techniques and analytical abilities.
It's possible she is a reference to Sasha Ivanoff from Anarchy Reigns. Both are smart, share similar physical appearance, and both have a similar last name.
Main Article
Edit
For more information please visit the Vanqish wiki page: Elena