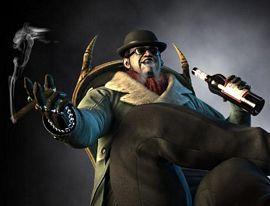 Enzo is an information broker and old friend of Rodin's who found Bayonetta 20 years ago after she awoke from her slumber. After striking a deal with him, Enzo provides her with the means to travel to Vigrid in order to claim the full set of the Eyes of the World.
Background
Edit
Not much is known about Enzo's past; though it's hinted at him being married or at at least having a partner at some point in his life because he mentions having two kids (possibly named Ed and Edna). Only other thing is that he has been frequently delves into shady business but its unknown for how long.
Personality
Edit
Enzo is either generally nonchalant or unconcerned about things/people. He tends to care about only himself, he's got a lust for money and wealth and severely dislikes angels but fears for his life from Rodin (more to the point, what Rodin will do to him about the debt he owes).
Appearance
Edit
Enzo is portly in body shape and boasts a deep coarse Brooklyn accent, keeping his hair in a ponytail and having rather long sideburns. He wears a green winter coat and red scarf, the suit underneath being black with a white shirt. His shoes and gloves are a brown colour and his gloves feature many different rings as if to display what wealth he has. Enzo also has a round black hat and wears dark-lensed glasses with black frames.
Enzo serves as an information broker and possibly an undertaker. He helps Bayonetta with gathering information regarding the "Eyes of the World", a key to Bayonetta's lost past. Initially he is seen taking part of a funeral which, as it turns out, is actually a set up for Bayonetta to fight Angels.
Personality
Edit
It's assumed his personality is the same as the previous game.
Appearance
Edit
Enzo is seen in a purple/pink and white pinstripe shirt with a matching frilled overcoat and white fedora-esque hat. 
Enzo appears to be playing the same role as before by serving as an informant.
Main Article
Edit
For more information please see the Bayonetta Wiki page: Enzo



Ad blocker interference detected!
Wikia is a free-to-use site that makes money from advertising. We have a modified experience for viewers using ad blockers

Wikia is not accessible if you've made further modifications. Remove the custom ad blocker rule(s) and the page will load as expected.