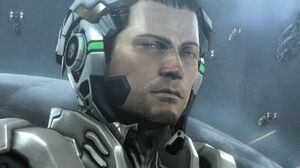 Sam Gideon is the main protagonist of the game Vanquish. Sam is a researcher under the affiliation of the DARPA Department, and is responsible for the creation of the Augmented Reaction Suit (ARS).
Personality
Edit
Sam Gideon has shown himself as a couragous and talented individual, as he is rarely afraid of anything Zaitsev threw at him. This also makes him somewhat reckless to the point of charging at the enemy without consent from anyone.
Despite this, Sam was shown to have strong morals as he was apalled at the idea of sacrificing marines to secure a breach within the cylinder station, which causes him to question Burn's ability to lead.
Background
Edit
Sam was a successful football player during his college years, but was cut short due to an injury; later Sam was in charge of the design and creation of the Augmented Reaction Suit (ARS)
Skills and Abilities
Edit
He is shown to be quite proficient with firearms and general combat. He is also adept at using technology at hand as seen with his proficiency in the suit.
Main Article
Edit
For more information please visit the Vanquish wiki page: Sam Gideon



Ad blocker interference detected!
Wikia is a free-to-use site that makes money from advertising. We have a modified experience for viewers using ad blockers

Wikia is not accessible if you've made further modifications. Remove the custom ad blocker rule(s) and the page will load as expected.